Website Design Done-in-a-Day
HAPPY DAY – CUSTOM WEBSITE DESIGN DONE AND DELIVERED IN 24 HOURS!
HERE'S WHAT YOU'LL GET WITH WEBSITE-IN-A-DAY PACKAGE
You only have a few seconds to capture your visitor's attention on your site. You need your website to be pretty and effective. We specialize in websites that most importantly – converts.
You'll receive a Website that is:
Fully-customized WordPress website
Responsive on all devices
Easy to navigate
Lead and Sales generating
Easy to update
WEBSITE CONTENT OPTIMIZATION
Once the website is developed, we will then work on:
Image & Content optimization
Basic SEO
Sitemap submission
Google analytics
Backup
Cache
to enhance your website search results and boost your online performace.
BRAND STRATEGIST AND WEB DESIGNER
I'm a designer who listens to your needs and provides you with designs that elevate your brand personality. I take hold of your idea and add a wow-factor with beautiful graphics!
I will give you a website that takes your customers on a journey and a brand design that will carry you and your business into the future!
Are you ready to get started?
• MAKE YOUR FIRST BEST IMPRESSION • Your Investment for the Happy Day
If you're looking to grow your business and have a website that truly reflects who you are and what you do look no further! I knew immediately that Abigail and her team were "the one". Her approach is very holistic and the result is even better than I had imagined. My website was finished within the deadline and the support throughout that time was continuous
Abigail's branding package blew me away! The process was super easy, turnaround time was incredible fast (about 4 days) and she really took the time to get to know my brand. Her attention to detail on my project was impeccable, and I am greatly satisfied. The colors, tones, personality, themes, everything was captured perfectly! She's going to be my go to for all my graphics/branding needs no doubt! I already started recommending her to my network. She's the BEST!
Working with Abi is a pleasure. She is very talented, a good listener and delivers promptly in a very organized and professional manner. She has just created a new page on our website which I'm very happy with. I plan on using her services again and again. She is super professional, she is communicative and there has never been an issue in terms of excellence and delivering the results that we and our clients expect. I always feel super comfortable handing off projects to her because I know she will do amazing things with it.
Abigail did several graphics for an event that I was running. She caught the vision of what I wanted and made stunning graphics. I was so impressed! I have been working in the online space for over 10 years and the thing that I appreciated so much about Abigail was her responsiveness to my communications. She is not only good at what she does, but she's also reliable. A winning combination! I plan to use Abigail for all of my graphics and can confidently refer her to any clients that need graphics. I highly recommend her!
I hired Abigail and her team to help me rebrand my LivinLyfe Marketing Agency. I wasn't quite sure exactly what I wanted but Abigail worked with me and was very patient while I figured it all out. When I finally had what it is I was looking for, she put together a beautiful mood board that incapsulated the feel of me and my business. The colors, the redesigned logo and the social icons all flow together. I'm so excited about my new branding kit, logo and the colors that I'm working feverishly on my site and Social Media headers so everyone can enjoy them like I do. Thank you so much Abigail and team for making this experience one to treasure.
Timeframe: 24 hours*
Launch Price: Starts at $799 USD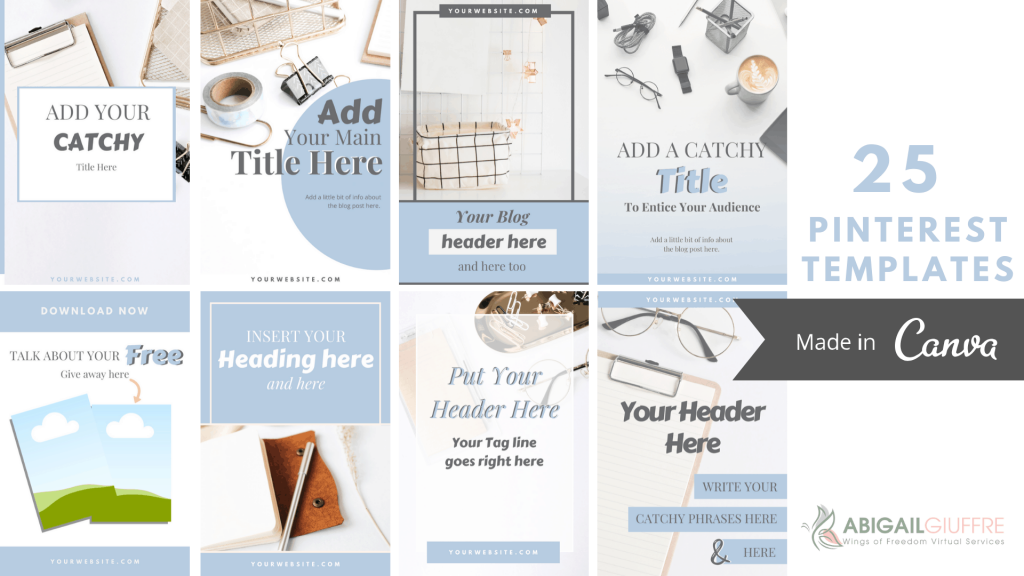 BONUS 1 - 25 PINTEREST TEMPLATES
You will receive 25 Pin Templates ready to be customized. All you have to do is, change colors or fonts to fit your Brand.
BONUS 2 - 20 INSTAGRAM CREATIVE TEMPLATES
You will receive a 20 Instagram Creative templates to make you content creation days easier.  Brand them and post them!
BONUS 3 - 14 PAGE LEAD MAGNET TEMPLATE
A Done-for-you set of 14 page Fully Customizable Lead-Magnet / Ebook Template to create your own lead magnet to grow your list.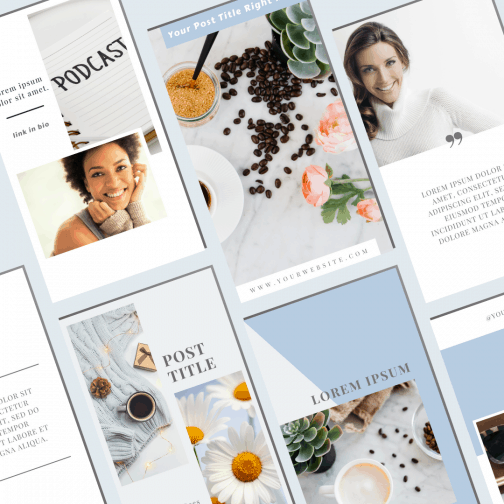 BONUS 4 - 20 INSTAGRAM STORY TEMPLATES

A set of 20 customizeble Instagram story templates to create high-engaging, branded designs in no time!
Here's what happens after you book this package:
FREE DISCOVERY CALL
Go to my calendar & book a free call. Then we will choose a date for your intensive and you will secure your date with a 50% deposit, or pay in full.
ONBOARDING
After the discovery call, we'll send over a customized proposal (which will outline the process, the list of deliverables, and an attached contract and invoice sheet). When you're ready to move forward, you'll approve the proposal, sign the contract, and pay the deposit invoice.
CLIENT HOMEWORK
We'll send you a brand or website questionnaire to work on in the meantime and start a collaborative Pinterest board where you can add all the images, colors, illustrations and photography that inspire you.
DESIGN & REVISION
We will start with the design phase for Website based on your inputs and requirements. We'll then present our designs in 24 hours, and you'll get the chance to give feedback and comments. Once the designs are finalized we'll transfer to Live Hosting site.
5. FINAL TOUCHES & LAUNCH
With everything completed, we'll do one final overview to make sure there are no mistakes or typos and everything is working as it should. Then once it's all ready to go, we'll send over the final invoice. With the final balance paid, it's time for launch! Remember that you will get 1 week of free maintenance.
Are you ready to take your business to the next level?
Take a peek inside our Wonderworld