As a freelancer, Zoom is one of the tools that I have been consistently using for 4 years now. I had been trying to get my husband to use it during his travels for ages but he wasn't keen on learning a new app! You always come up with something new he says!!!
Little did we expect this tool to become essential for everyday life in March 2020!
Since the beginning of this disaster, I have taught over a 100 people how to connect with their communities using Zoom. From University lecturers – yes that includes my husband, to teachers, churches, grandmas who wanted to see their kids and many more! Need some one-to-one training on how to use Zoom, get in touch.
What is Zoom
Zoom is a video conferencing tool that allows people to meet and work together face-to-face when meeting in-person is not possible! The number of Zoom users since the start of COVID-19 have exploded. The reasons for is this is that they offer an amazing, much-needed service, even at a free package. Here is what you get for the free and paid versions: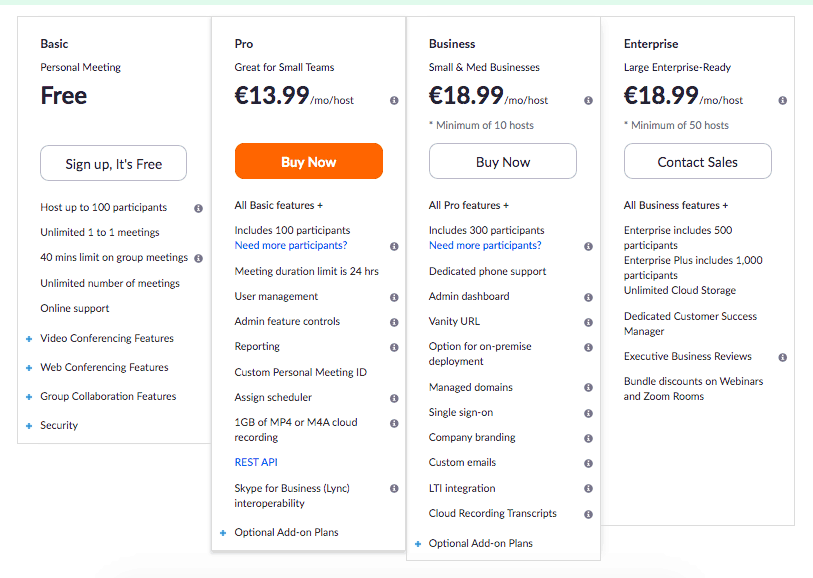 Once you have selected the right plan for you, Sign up and download the Zoom App to your device. You can now start hosting Zoom Meetings.
A "Zoom Meeting" refers to a meeting that's hosted using Zoom. Attendees can join the meeting using their computer, phone or tablet. All they need to join is to download the Zoom app on their device and the Zoom Meeting Link which is provided by the host.
HOW TO USE ZOOM
Sync Zoom to your Calendar
Some meeting are spontaneous and you can hop on to a meeting in a matter of minutes, but if you are planning a Zoom meeting in advance, and you might have a few meetings everyday especially if you are working remotely at this time, you will want to Sync your Zoom account to your calendar. Each meeting will appear in your calendar.
To do this:
Sign in to your Zoom account
Navigate to "Settings"
then "Meeting"
Choose "Synced Calendars"
Toggle on "Sync Zoom Meetings from Calendars"
Select the calendars you want to sync with Zoom
5 Zoom Features You May Not Know About
Touch up my appearance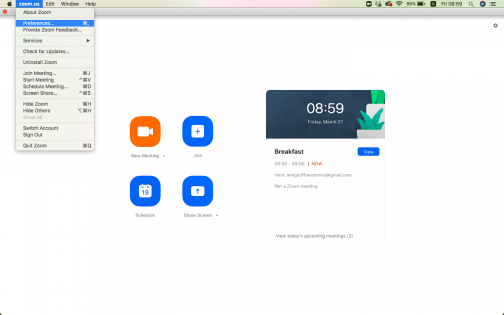 With so many impromptu meetings these days, you might not have all your face made up every time, so you can add a filter to your camera to make you look decent even when you're not fully ready to appear in public. You to Preferences, and under Video, you can select Touch up my appearance. You're now good to go!!!
Record you Zoom Meeting
The record meeting feature comes in very handy when you are holding an important meeting that you might want to relisten to when you are done. It could also be very valuable when not all of your attendees can be present at a certain time. They can watch the video later on. I have also seen several people who hold meetings or webinars on Zoom and send it to all their attendees the day after as a reference. This works very well for educational purposes.
Breakout Rooms
If you have a large group on a Zoom room and you want to divide them into smaller rooms to be able to have a group discussion, activities or work on a project, or even to hold different classes in each breakout room and then bring them back together when they are ready, breakout rooms are a great feature to use! Here is a quick video by zoom on how to do that.
Zoom Background
You can now change the background during your Zoom meeting. By Selecting the arrow near your camera and selecting Choose Virtual Background. Canva offers a great selection of Zoom Backgrounds and you can also create your own. The ideal size for this is 1280×720.
Live Streaming
You can Live Stream your zoom meeting to Youtube, Facebook and Workplace. I use this feature several times when I want to stream a premade video live onto my Facebook. This is also a great feature for churches to reach their community during this time!
Do you have any Zoom Questions? Let me know in the comments and I'll be sure to get back to you!