If you are unfamiliar with the technical facets of web design, hiring a web designer in Malta may be a difficult undertaking and a significant expensive commitment. A website that falls short of your expectations and time and money spent might come from hiring the incorrect web designer. It's critical to have a clear understanding of your needs and to ask the right questions for web designer in Malta in order to avoid such losses.
WHAT YOU NEED TO KNOW BEFORE CONTACTING A WEB DESIGNER IN MALTA
1. Know what you want
You should ask yourself a few things before contacting a web  designer in Malta. Do you want your website to promote sales for your business or will it be an information website about your company? Do you want to build your website with a specific audience in mind and speak to them in their language, or are you looking for a visually appealing website. Do you want your website to be built on a specific platform like WordPress, Shopify or Wix? In that case make sure that your designer is proficient on this platform.
When looking for web designers, be aware of the type of service that will provide you with the most value and concentrate on that element. 
2. Set your budget
Prior to beginning your search for Malta web designers, it's critical to be honest with yourself about your spending power. Depending on the sort of website you require, the web designer, and the services provided, websites may cost anywhere from a few hundred Euros to tens of thousands.
If you're looking for web designers in Malta, be sure you keep to your budget! Most web designers will be flexible with their pricing so be open about your budget and find out what they can offer you for that price.
3. Fix a Deadline
It's crucial to know when you need your website to be ready.  Of course, your deadline will have an impact on cost; site designers usually bill extra for a speedy turn-around.
If you don't know when your website has to be ready, contact a web designer in Malta to give you an estimate of how long it could take. You can also talk over your alternatives with them to make sure they know exactly what is required of them.
4. Check their Reviews
Find out what their previous clients are saying. Are people happy with their services? Do reviews say anything about their work ethic and customer support after the completion of the project.
Reading reviews will help you avoid hiring someone who is inexperienced or who doesn't deliver on time, which may be quite frustrating as a business owner.
Don't be scared to request references either. A trustworthy web designer will be happy to provide you with the names of one or two former clients who you may contact to inquire about their service.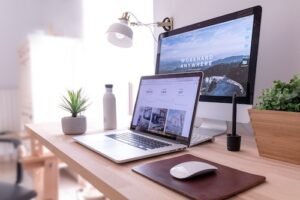 8 Questions for web designer in Malta
Choosing the wrong web designer can result in wasted time, money, and a website that doesn't meet your expectations. In order to avoid these pitfalls, it's important to ask the right pre-hiring questions for web designer in Malta. 
Needless to say, meet your designer before hiring them. Schedule a call to get to know the designer and to set your project up for success.
Here are some questions to consider:
1. Ask to see examples of previous work
Before hiring a web designer, it's important to see examples of their previous work. This will give you an idea of their style, design aesthetic, and overall quality of work.
2. What is the process to create a website
Each web designer has their own approach to web design. It's important to understand their design process and ensure that it aligns with your vision and goals for your website.
3. What is your timeline for completing my website?
It's important to have a clear understanding of the timeline for completing your website. Make sure your web designer has a realistic timeline and communicates any potential delays or issues.
4. Will I be able to make updates and changes to my website?
It's important to have control over your website and be able to make updates and changes as needed. Make sure your web designer provides you with access to your website and the ability to make updates.
5. What is your pricing structure?
Pricing can vary greatly between web designers. Make sure you understand their pricing structure and ensure that it aligns with your budget and expectations.
6. What kind of support do you offer after the website is launched?
It's important to have ongoing support after your website is launched. Make sure your web designer offers support and maintenance services to ensure your website stays up-to-date and functioning properly.
7. WiIl I have full ownership of the website when it is complete?
I have heard horror stories of business owners loosing so much money by trusting the wrong web designer who assures them that they will take care of everything, but never gives access to the owner. Always make sure that you will have full access to the website and that you are not bound for a period of time to stay under any company. 
Some web designers will offer a payment plan for people who are on a budget. In that case you will definitely have some commitment period in order to cover their cost of labour. 
8. Do you offer hosting and website maintenance after the completion of the website?
Many web designers will offer their own hosting which will usually save you money from a normal hosting company. This will be a yearly cost. 
Most web designers will also offer maintenance packages. What would these include? What if you need them to help with adding blog posts, photos or products, how is that charged.
In conclusion, despite the fact that hiring a web designer in Malta can be a big investment, by asking the right questions and choosing the right designer, you can ensure that you end up with a website that meets your goals and exceeds your expectations. Would you like to know more about my web design services and I can help you create your dream website? Send me an email or let's hop on a call and find out if I could make your dream website a reality.